The House That Jack Built "The Director's Cut" (2018) Review
The House That Jack Built (The Director's Cut)
Directed by Lars Von Trier
www.ifcfilms.com/films/the-house-that-jack-built
When the first reviews out of the prestigious Cannes Film Festival are "audiences walked out in disgust," that's usually the cue to head on in. The committee already imposed a ban on director Lars Von Trier for questionable comments in 2011 and his films have been described as "daring," "intelligent" and "a triumph" while reviews for his latest "The House That Jack Built" have included "an ordeal of gruesomeness and tiresomeness that was every bit as exasperating as I had feared" per Peter Bradshaw at The Guardian or take Jessica Kiang of The Playlists advice and "kiss your children. Go for a walk in the park. Eat a tomato like it's an apple. Attach a love letter to your payment for the gas bill. Throw some pebbles into a fountain. Learn a few phrases in Xhosa. Defrost the freezer. Do anything — it really doesn't matter what — rather than go and see Lars Von Trier's The House That Jack Built."
While no urge ever overcame to exit the theatre during the director's cut of "The House That Jack Built" extended running time of 152 minutes (the MPAA approved R classified theatrical version shaves off about 20 minutes) it's understandably not rated E for Everyone. There's copious amounts of art house aesthetic, stark samples of stock footage, William Blake/Friedrich Nietzche philosophical musings and many of the trappings Von Trier viewers have come to expect but at it's dark, cold heart "The House That Jack Built" is a sort of "Fight Club" meets "American Psycho" where the violence is localized, drawn out and savage. And everyone knows as Jack is more than open in discussing his perverse proclivities with girlfriends, shop keeps and even law enforcement – there are no rules, you can talk all you want and no one will believe, no challenge will be made, the hunt must continue. Some have taken it as nothing more than a spectator sport of patriarchal, Patrick Bateman approved glee, others as a mission ordained from an unseen force and a drawling, disembodied narrator Verge (who eventually does appear in the films end) or even as simply a force of nature who is an integral part of the vicious but vital cycle where evil is indiscriminate and uncaring.
In the five distinct incidents (labeled in numerical order) Jack and Virgil invite us into, we get to know Jack through roughly a decade plus in 1970s/80s Washington state as he kills a bevy of victims including Uma Thurman, Siobhan Fallon Hogan, Sofie Grabol and finally Riley Keough who could be viewed the centerpiece of the slaughter, though the onslaught does not end there. There is no doubt that Jack is a serial killer, a predator stalking not only in the shadows but in broad daylight. In the beginning, we are witnesses to the fact that he is not a suave, efficient murderer but a bumbling, shortsighted shell of a man who makes endless mistakes riddled by Obsessive Compulsive Disorder that give the first half of "The House That Jack Built" a Christopher Guest like mockumentary feel. Those hoping for "American Psycho" may be surprised and amused to see that Jack is not exactly the "Best In Show" when it comes to a killing spree.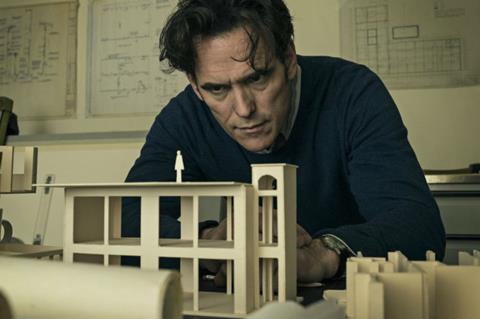 The second section descends like Dante into the circles of the Hell that Jack is both living in and that which he has created. His murders are more refined but also increasingly brazen, a craft perfected but purpose diminished; metaphorically and literally Jack is building a house, the physical one subject to scenes that beckoned for a Randy Newman song while the other is a grotesque garland befitting sonic contributions by Aphex Twin.  We do get to see the frustrations and fruits of Jack's labor but it's not a particularly satisfying or filling meal; the appetizer and main course are nourishing if undercooked but the bloated dessert service is anything but a treat. Some may be sickened by the violence and inhumane but devoted gorehounds are going to find this one a chore and not from boredom but because like this year's other overdrawn entries, "Mandy" and "Suspiria" there is an appetite for more content and quality, not length and pomp.
As a fair warning to those with sensitive palates, and is often the case for most the harm done to a baby animal by an elementary age Jack elicited the largest & loudest pangs of disgust from the audience; a revolting display to be sure but sadly ironic when the film feast on screen was paired with the side dish in the seats dining upon animals slaughtered in horrific fashion to satiate a much more real bloodlust than the gallons of Karo syrup dripping in each scene. Save for the finale, all the victims are women and children which has caused much fervor in traditional circles as well as enormous anger in the perpetually pissed SJW mob online and off but Jack's statement is not political or socially motivated; it's difficult to find any real meaning in his actions and that best describes most real-life monsters. The whole experience is par for the course in the end and it makes it no more outrage worthy or outrageous; this was done nearly 40 years ago with "Maniac."
Matt Dillon plays his best Frank Zito, albeit more refined and successful but certainly not better than the late, great Joe Spinell. Dillon has always been an immensely talented actor and his work here doesn't slouch but also feels more imitation than innovation. The remaining cast is rather stock and we rarely feel for most of them, likely Tier's (and Jack's) desired paradigm but even some of the most flimsy characters of the 80s slasher heyday were more likeable and memorable than those here.
If "The House That Jack Built" foundation followed the first half throughout the entirety of the film going into further manic and absurdist territory, a greatest investment could have been garnered. The cast, cinematography, script all had  As it stands, this is one that would best remain a rental; purchase the recently released 40th Anniversary of "Maniac" and take solace in much better bloody sleaze…