REVIEW: Ouija: Origin of Evil (2016)
Whatever one's view of sequels may be, especially in horror and its related subsets which are well known for a glut of garbage, Blumhouse may have finally found the formula for cinematic cold fusion, mainlining into their many franchises, including the follow up to 2014's dismal original.
Its primary success is in the fact that while I witnessed the first fear, it certainly didn't leave me with any sort of chills, just an immense of boredom. While not a lot of details surface in casual recollection, I do remember it being bland and as mass produced as the Parker Brothers plastic it's based upon. Still, there was a bit of a twist that pumped some adrenaline towards the twilight of its short running time, ideas that are thankfully fleshed out here. Have no worry; if you never saw "Ouija," as "Origin of Evil" could best be described as a near "do-over" while also building a mythology that is quiet complex and frankly, very cult in its execution, like the better half of a vintage grindhouse double bill. The dedication to making the mystery deep and dark is a resume highlight from Jason and Co.
Another hallmark of the better Blumhouse releases is the cast in most, especially here where they are especially cohesive with the tightknit Zander family and a small inner circle that is tested by sinister forces. While mother Alice (Elizabeth Reaser) and eldest daughter Lena (Annalise Basso) fight a war at home as parents and teenagers often do (exacerbated by the loss of a husband and father), it's the war within young Doris (Lulu Wilson, in an exceptional performance) that drives the story and the demons. Whether in her cheery beginnings or descent into the abyss the Ouija board opens, Wilson deftly keeps the family and their friends guessing while the audience squirms.
The woefully long lost Henry Thomas, who hasn't been in much scare fare ("Fire In The Sky," "Dead Birds" and Mick Garris first entry in the Masters of Horror series, "Chocolate") but always stands out in said films, plays principal/priest Father Tom. An administrator for the girls' Catholic school, he is a man with doubts that are exorcised throughout the running time but he does an admirable job at the altar, shifting between a loss of faith and fanatical devotion to it (including a great nod to Jason Miller's performance as Father Karras in the landmark "The Exorcist") that I found to be well done.
Much like its closest compatriots "The Conjuring" and "Insidious,"  "Ouija: Origin of Evil" keeps the laughs well times and equally as non-bludgeoning as the scant few jump scares, something the other two series occasionally have difficulty meting out in appropriate measures. Still, there are plenty of humorous moments worth noting that are organic and fun; there was a real roar at one "apparition" in particular.
Also like Conjouring spinoff Annabelle, this origin of evil takes place towards the end of the 60s as the Summer of Love and its bright, shining prospects were coming to a dark, grisly apex to the Age of Aquarius. The setting contrasts California Dreams with the nightmares of a changing world, families at odds and evil afoot very nicely; I especially enjoyed the attention to the Space Race broadcast as a parallel for the more unholy elements happening onscreen.
Though the possessed parties are standard game (with the primary antagonist very reminiscent of those in last year's powerhouse "We Are Still Here") a couple of set ups and shots were quite good but it's the establishment of atmosphere over action that helped put Ouija above its dreadful predecessor and this is largely thanks to director Mike Flanagan. I first came into contact with his work five years ago with "Absentia" which is such an incredibly underrated film and one of the great slow burns of the 21st century, while more commercial fare like "Oculus" had an adept punch and is a reflection of what a burgeoning filmmaker can accomplish between independent vision and industry expectations.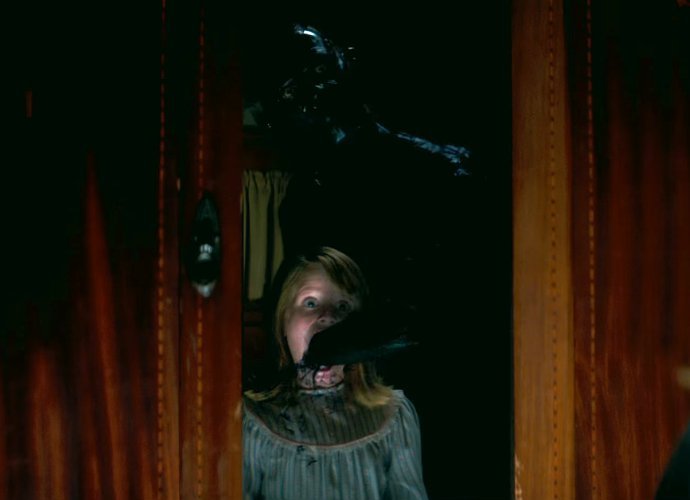 Great lighting and angles by cinematographer Michael Fimognari, taking a prominent role in establishing shots and moods that fit each scene like a glove and while the score by the Newton Brothers isn't particularly phenomenal, it's quite enjoyable with a few memorable pieces woven between period music.
"Ouija: Origin of Evil" is not going to win many, if any awards or woo most horror connoisseurs but it deserves a chance, especially if the original left a sour taste in your mouth. This sequel stuns in that it's such a vast improvement, it feels like the franchise has new life and a lot of potential. While most horror lineages lose their legs by the time the second film is in production, "Ouija" may actually harbor enough black magic and moxy to take it into respected territory, a place few PG-13 modern horrors find sanctuary; "Ouija: Origin of Evil" is sure to have a few new friends saying hello…
Ouija: Origin of Evil
Directed by Mike Flanagan