The Strangers: Prey at Night Review
The Strangers: Prey At Night
Directed by: Johannes Roberts
www.thestrangers2018.com
"Is Tamara home?" Such a simple query delivered with such chilling cadence is the calling card once again for a long and harrowing night as Dollface, Pin Up Girl and The Man In The Mask haunt and hunt their victims in a powerhouse pic that ups the ante and antagonism considerably. While it's an imperfect offering, when taken for what it is was not only worth the wait but hopefully will fund future fearmaking.
A new and larger family is on the recieving end this go round with vets Christina Hendricks and Martin Henderson paired with up and comers Bailee Madison and Lewis Pullman as standout siblings who on a tense road trip face the terrifying trio in a lakeside resort community in the midst of an empty off season, prime for the picking. It's a cookie cutter plot and the characters are stock but like most horror films past and present, "Prey At Night" packs potent ammunition with not being afraid to be fucking ruthless – mean, menacing and missing humanity. This is also known as my kind of movie.
Gorgeous cinematography by Ryan Samul makes the dark and often dull landscape cascade with stalking shadows, formidable figures and intense interludes keeping the tension ratchet and cementing the series' hallmark of eye strain combined with increased heart rate at rock solid level of workmanship.
One of the genre tropes pervasive in the '10s to date is a musical mix of a pulsating synth score accented with classic pop songs of the 70s and 80s that contrast nostalgic notes with visceral visuals. Composer Adrian Johnston doesn't reinvent the wheel here but certainly keeps the record spinning right round while a memorable poolside encounter will having you hearing "Total Eclipse of the Heart" in a wholly new and unforgettable way.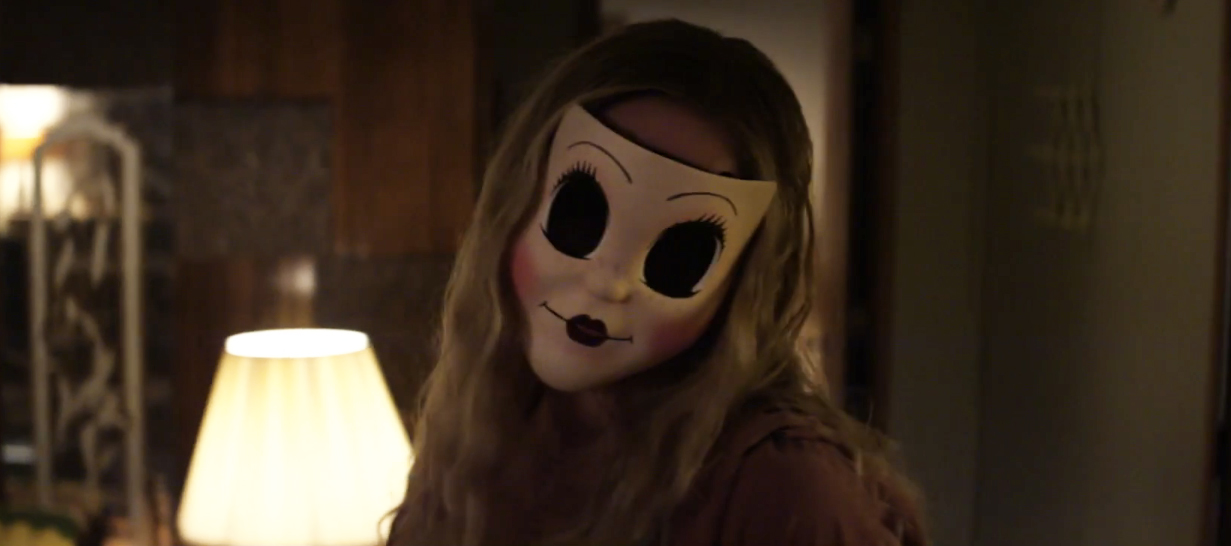 Plenty of homages to classic horror fare litter the films lean 85 minute running time including nods to "The Texas Chainsaw Massacre," "Children of the Corn," and the criminally underrated slasher classic "The Mutilator" – hell, even Fulci lives here as a scene in "Zombie" is aped. One of the celluloid influences that came to the surface frequently for me was both the original "The Hills Have Eyes" and it's stellar remake; this was especially prevalent in the audience reaction of boisterous applause and genuine joy in the instance where the tables turn and the titular prey transform into potent predators. When things culminate in one of the most over the top climaxes in recent cinematic memory, one can't help but cheer.
Director Johannes Roberts, hot off a double header of success with low cost/high profit efforts "The Other Side of the Door" and "47 Meters Down" (with the latter seeing it's own sequel soon.) "The Strangers: Prey At Night" has a lengthy and tumultuous development history but it feels like Roberts was the right fit for the role, showcasing a strength for maximizing micro budgets with maximum scares.
"The Strangers: Prey At Night" may disappoint some diehard fans of the original feature who enjoyed it's old school chills and largely bloodless terror during the title reign of the torture porn subgenre, there is a gritty grindhouse energy and filthy 42nd St kind of fun that was a necessary shift in tone, especially after such a long absence between installments. This is an equally back to basics, down and dirty entry but instead of 70s finesse and flair, this is 80s flash and fanfare meant for audiences who crave blood, boobs (though as mentioned in the latest episode of Cult Following, Christina Hendricks' massive mammaries have somehow experience a digital downsizing ala Christina Ricci in her "That Darn Cat" days) and brutality. When it comes to family fun, are there are any greater necessities?